The economic and social pitfalls of underinsurance - why Indians need better protection from financial shocks in life
10th September 2019 | 5 min |
In developing economies like India, life insurance plays an important role in economic growth. Insurance companies help mitigate and transfer risk. Experts believe that lack of insurance throttles the citizens' capability to take financial risks and become active participant in driving economic growth. On the other hand, higher insurance penetration promotes a greater sense of security, peace of mind, reduction in anxiety and fear among individuals, businesses and governments. Over the last few years, driven by favourable demographic changes, increase in life expectancy, disposable incomes and employment opportunities, digital transformation, and encouraging regulatory and government policies, life insurance sector has picked up pace in India. According to the 9th Annual Indian Insurance Industry Report, India is now the 10th largest life insurance market in the world, with total premiums growing at an average rate of almost 8% per annum during the last five years. The report states that life insurance penetration has inched up 2.8% in 2016-17 from 2.6% in 2013-14,
while the insurance density has jumped by 25% to $55 during the same period. Insurance penetration measures the contribution of insurance premium to the Gross Domestic Product (GDP) of a country in percentage terms and insurance density gives an indication of how much each person in a country spends on insurance in terms of premium.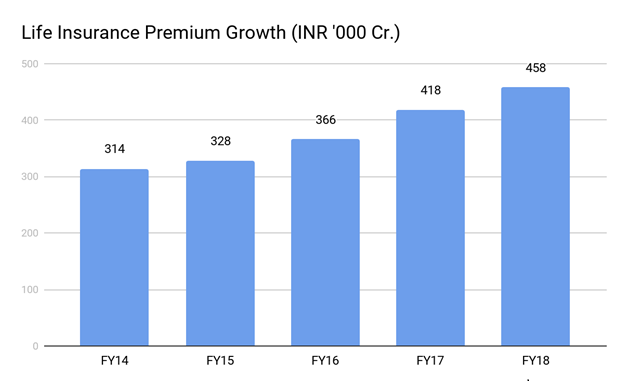 Figure: Life insurance premium growth; image credit: 9th Annual Indian Insurance Industry Report
Despite the recent growth of life insurance, India has one of the largest coverage gaps in the world, with insurance penetration as well as density far below the global average. So, even as the market has grown in size, an overwhelming majority of the population remains uninsured and even most of those who are insured have insufficient cover. A recent report by India Spend pointed that at least 988 million Indians - more than the total population of Europe and 75% of India - are not covered by any form of life insurance. What's worse is that even those who have life insurance are insured of only 8% of what may be required to protect their family from a financial shock. In fact, the country has the second largest insurance gap in the world of $27 billion (in absolute terms) after China, according to a 2018 global underinsurance report by Lloyd's of London.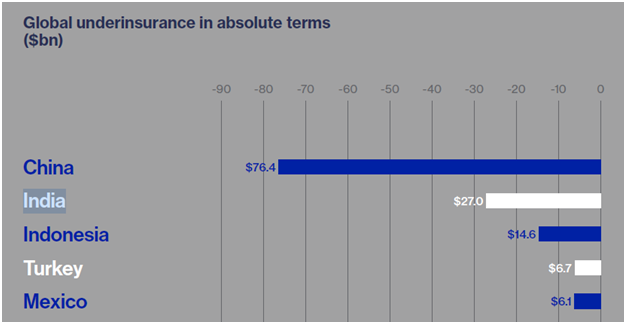 Figure: Top-5 countries with largest insurance gap in the world; image credit: Lloyd's of London
Underinsurance in life insurance is a huge problem as it defeats the whole purpose of buying a policy. Unexpected shocks such as the death of a family member lead to financial loss. There are few things worse than a family needing to claim life insurance in such a situation and discovering that the policy does not provide sufficient financial protection or the right kind of cover. The financial instability caused by underinsurance is even more severe in the unorganised sector. Nearly 82% of India's workforce is engaged in informal employment in the unorganised sector which is prone to additional risks in the form of income volatility, hazardous workplace conditions and lack of old-age benefits. This means that almost 400 million workers and their families live under constant threat of financial setbacks due to insufficient or non-existent coverage.
Apart from the lack of awareness regarding the necessity of insurance, one of the major reasons behind the inadequate coverage of the Indian population is the prevalence of insurance products which do not really offer a proper life cover. According to a 2017 report by global consultancy McKinsey& Co, the insurance market in India is dominated by products which offer both protection and investment features, such as endowment plans and Unit Linked Insurance Plans. The life cover provided by such products tends to be much lower than that offered by pure protection products.Unfortunately, pure protection plans account for a small proportion of the life insurance market in India and as a result, the country has one of the highest protection gaps in the Asia Pacific region. A 2014-15 study by Swiss Re discovered for every 100 rupees needed to nullify the impact of a financial shock, Indians have just around 8 rupees, leaving a protection gap of almost 92 rupees. To tackle the issues of awareness and underinsurance, the industry and the regulators need to offer as well as promote more pure protection plans such as Term Life Insurance which provide the highest coverage at affordable prices. Since term insurance plans provide coverage only for a specified term, the premium for such policies is significantly lower when compared with other policies. Not only are term plans the most cost-effective way to protect Indian families, but they also present the flexibility to opt-out, change or customize a policy, as and when required by the customers. A higher penetration of such pure protection plans, which requires a coordinated push from the insurance players as well as policymakers, can help the country come out of the shadow of underinsurance, and thereby, giving its citizens the freedom to take chances for a better life.
Disclaimer -
This publication is for general circulation only. This document is for information and illustrative purposes only and does not purport to any financial or investment services and do not offer or form part of any offer or recommendation. This document is not, and should not be regarded as investment advice or as a recommendation regarding any particular security or course of action
Please make your own independent decision after consulting your financial or other professional advisor