Dear Women, Gift Yourself the Guarantee of a Secured Financial Future

Women have succeeded in breaking many glass ceilings and are succeeding on multiple fronts - professional as well as personal. They have achieved financial independence and are working long hours to support their families and fulfil all their financial needs.
With this financial independence comes the responsibility of managing the finances and saving up for a rainy day. Chalking out a robust financial plan has become a more nuanced concept, and women are now looking at more options than just meeting the daily needs of their loved ones.
Generating a steady income for the future from one's existing income through savings and investment can be quite cumbersome. However, with life insurance for women that also acts as a guaranteed1 savings plan, it can become easier to build a financial support system for yourself as well as your family for a later date.
What are guaranteed1 savings insurance plans?

Life insurance savings plans offer you the to chance save your hard-earned money over time and build a financial corpus for the future with the added benefit of a life cover. A major advantage of having a savings plan is that a guaranteed1 sum assured is paid out to the beneficiaries in case of the policyholder's untimely demise during the policy tenure.
However, if the policyholder lives beyond the maturity of the savings plan, they are eligible to receive guaranteed1 benefits in the form of a lump sum payout or regular income. Such savings plans can be an ideal insurance plan for women looking for a guaranteed1 return plan that will offer safe and steady returns while also protecting their family's financial future.
Why do we need insurance?
Life insurance savings plans are designed to help you meet your long-term financial goals, such as planning your child's wedding or purchasing a house and short-term goals such as financing a small venture or buying a car. At the same time, to ensure that our absence does not affect the dreams of our loved ones, these plans also safeguard them financially.
Women's life insurance policies are crafted to ensure that women do not have to carry the additional financial burden of purchasing expensive insurance policies.
How do savings plans guarantee1 a secure financial future for women?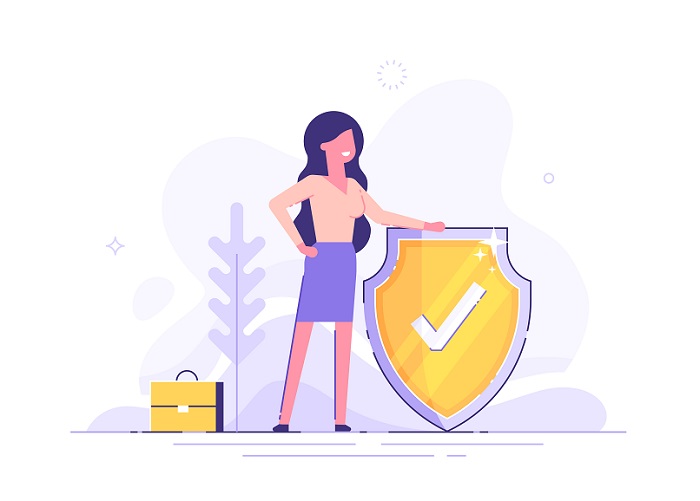 When it comes to financial planning for women, a guaranteed1 savings insurance plan becomes an essential component. This is because the savings are long-term in nature and help a woman meet the various financial goals that she and her family may have. Here are a few ways in which a savings plan can help women secure their and their family's future:
A retirement plan: Savings plans are of different types and can meet the requirements of the policyholder depending upon their objectives. One can start planning their retirement as early as in their late 20s if they choose the right plan to achieve this. Through a savings plan, a woman can ensure a steady and regular income during her retirement years and lead a financially independent life even after her retirement.
Meets precise goals: Instead of relying on a single source of income, the funds built out of a savings plan can be used for meeting the financial goals of all kinds. Be it purchasing a home in the next few years, spending on your aged parents' healthcare or planning your child's wedding 10 years down the line, savings plans are quite flexible for meeting one's financial goals.
Protective life cover: While chasing one's goals, the tension of securing our beloved family's future can often keep us from looking ahead. The dual benefit of a life cover and the guaranteed1 returns from a savings plan ensure that a woman can freely pursue her dreams without the worry of her family's financial security in her absence.
Combats inflation: A portion of the premiums paid towards a life insurance savings plan is invested in safe and non-market avenues, which ensures that your funds are not only accumulating over a period, undisturbed by market forces but are also capable of withstanding the impact of economic inflation in the long run.
A long-term financial cover: On average, the tenure of a savings plan can go up to 20 years, which means that your family is well-protected against financial uncertainties during this time span. And should there be an unfortunate event during this period, your family will still be protected by a guaranteed1 sum assured.
Fortune Guarantee Plus by TATA AIA (UIN: 110N158V01)
To ensure that nothing comes between you and your financial goals, TATA AIA Life Insurance Fortune Guarantee Plus (UIN: 110N158V01) helps you achieve a guaranteed1 regular income alongside the advantage of an assured life cover with affordable life insurance for women.
Features of TATA AIA Fortune Guarantee Plus:
Plan your future goals with the flexibility of choosing between a regular income plan or regular income with an in-built critical illness benefit.
Choose to receive income payouts either on a monthly or an annual basis.
Opt for Joint Life Cover under the single premium payment option.
Customise and enhance your plan's protection with an additional rider*
Avail of the tax benefits# under the prevailing Income Tax laws.
TATA AIA Life Insurance Fortune Guarantee Plus offers the following riders* to enhance the coverage and ensure all-round protection:
TATA AIA Life Insurance Fortune Guarantee Plus offers the following riders* to enhance the coverage and ensure all-round protection:
Conclusion
With growing responsibilities, it is essential to have a financial safety net ready for all kinds of needs and emergencies that a woman may face in her life. These may include but are not limited to medical exigencies, marriage, pregnancy or even migrating to another country for better job opportunities!
By opting for a savings plan and consistently accumulating a financial corpus, you can be sure that you and your family are prepared to face the future without having to worry about finances.
And TATA AIA Life Insurance Fortune Guarantee Plus offers you the requisite support to bolster your finances so that your dreams can receive your undivided attention.
For more information on TATA AIA Life insurance plans, get in touch with us today!
L&C/Advt/2021/Mar/0392