How to Ensure Complete Security For Your Partner?
Mahesh was just five years old when he lost his father. With no money-saving plan, his young mother struggled for many years to make their ends meet. Since Mahesh was a bright student, he kept working hard and managed his way through schools and colleges through scholarships. He now works as a software engineer in an MNC. After his engagement, Mahesh bought a money-saving plan. He had understood the importance of having a life insurance plan very early in life and did not want history to repeat itself.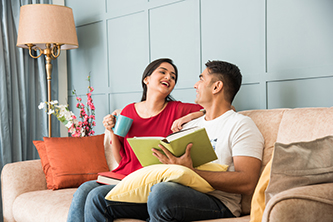 Why Life Insurance?
A life insurance policy is an essential part of one's financial plan. However, the insurance requirement goes up with advancing age and the different stages of life. So, you need to keep adding to your savings plan to ensure coverage from time to time.
One of the primary reasons for purchasing a life insurance plan is to generate a guaranteed# regular income in your absence. Consider it your plan B, your safety net to protect your family from financial concerns if something were to happen to you Insurance would come in handy to pay for long-term financial commitments and liabilities along with securing the family's future.
Life Insurance for Partners
If you wish to ensure complete security for your spouse and are wondering if you can add your spouse to your life insurance, the answer is "yes, you can." You have the option to cover your spouse in the same plan as yourself. Such policies are called 'joint insurance plans'.
The insurance cover ensures that if something happens to you, there would still be an inflow of income for your loved ones so that your absence does not put them in a financial crisis.
Note: Also, to ensure that your insurance plan caters to your wife and your children's financial future, you could register the same under MWPA (Married Women's Property Act). Once you register your insurance plan under the MWPA, no lender can attach it to an outstanding debt after your death. Hence, the benefits received from this insurance plan would only be utilised by your wife and children.

You can register your life insurance policy under MWPA only when buying the plan, not afterwards.
Adding Your Spouse to Your Insurance Plan: Best Life Insurance for Partners
Today, the insurance market offers a lot of varied plans for life insurance for married couples. Your spouse would be the death benefit recipient as a nominee or a joint holder of the plan. They can receive the death benefit either in a lump sum or as a monthly income; or as a combination of the two, as per your choice and the plan's flexibility.
When you buy life insurance for your partners, you can avail many other benefits, such as:
Death benefit

In case of your untimely death during the policy tenure, your spouse would receive the death benefit as a nominee or a joint holder of the plan.



Minimal paperwork

Many people feel that there is a lot of documentation required after the policyholder's death, but that is not entirely true. Most companies have a simple and easy way of settling the claim. It is your responsibility to update your spouse about the claim procedure as well so that if the need arises, he or she can process the same efficiently.



The cheapest way of protection

A life insurance plan is one of the most affordable ways to protect your loved ones. At very reasonable premiums, you can cover yourself for life.



Easy to understand

Insurance is often considered to be technical and complicated. But it isn't so. You can resort to professional help to understand the aspects clearly before purchasing.



Peace of mind

When you have the assurance that your family would be able to sustain itself financially even in your absence, it helps ease the pressure that you may feel on yourself. Hence opting for life insurance for married couples is a good option.
Choosing the Right Insurance Plan
There is no doubt that you want the best for your loved ones. However, picking the right insurance plan may seem quite overwhelming. Suppose you are looking for an appropriate insurance plan that offers complete security to your spouse. In that case, you first need to identify and understand your requirements and then start exploring your options.
If you wish to choose a convenient and flexible plan, you can opt for an insurance plan by Tata AIA Life Insurance. The company offers multiple choices, and you can customise the plan as per your needs. One such plan is the Smart Income Plus Plan by Tata AIA.
The Tata AIA Life Insurance Smart Income Plus Plan (UIN: 110N126V04) is an individual life insurance savings plan that works like a monthly income plan. With the advantage of guaranteed# returns, you have the option to choose guaranteed# regular income or endowment benefit. The plan proves to be suitable if you are looking for life insurance for married couples. The plan caters to your changing needs and allows you different plan options so that you can freely plan your financial goals.
You can get an idea of the Tata AIA online premium by visiting the website. Along with tax *benefits, a loan facility and a flexible premium payment, the plan protects your loved ones at affordable rates. You can further enhance the coverage by opting for riders1.
Conclusion

When you get married, you are all set to build a new future with your partner. In this new phase of life, you tend to have more responsibilities. Your everyday expenses increase, your responsibilities grow, you take out loans and do everything you can to make life comfortable for you and your partner.
Financial planning is the only thing that can help you be prepared for an unpredictable future. It is only through a financial plan that you can strike a healthy balance between your present and future.
L&C/Advt/2021/Jun/0935